The entire crypto market moves upwards as the premier cryptocurrency Bitcoin regains $22k.
Market Overview
Recently, Bitcoin reached $22.4k, the highest level since June 16th. In the meantime Bitcoin had reached $22k only once on June 8th. During the past 30-days Bitcoin has gained value by 8.9%, while the average price has remained $20.5k.
Currently trading at $22.2k, Bitcoin is up 4% in the day and 8% over the week. As a result of Bitcoin's recent market behavior, almost all the mainstream coins are currently in green. Among the top ten Ethereum has emerged as the top gainer with 29% of increase in value over the week. In the meantime SOL and BNB has seen an increase of 19% and 12%respectively. Whereas XRP has gone up by 11.8%.
XRP Price Analysis
Currently trading at $0.36,Ripple native  XRP, is up 3.9% in the past 24-hours. XRP's current price level is highest since June 26th. With the average price of $0.33, XRP has gained value by 14% in the meantime.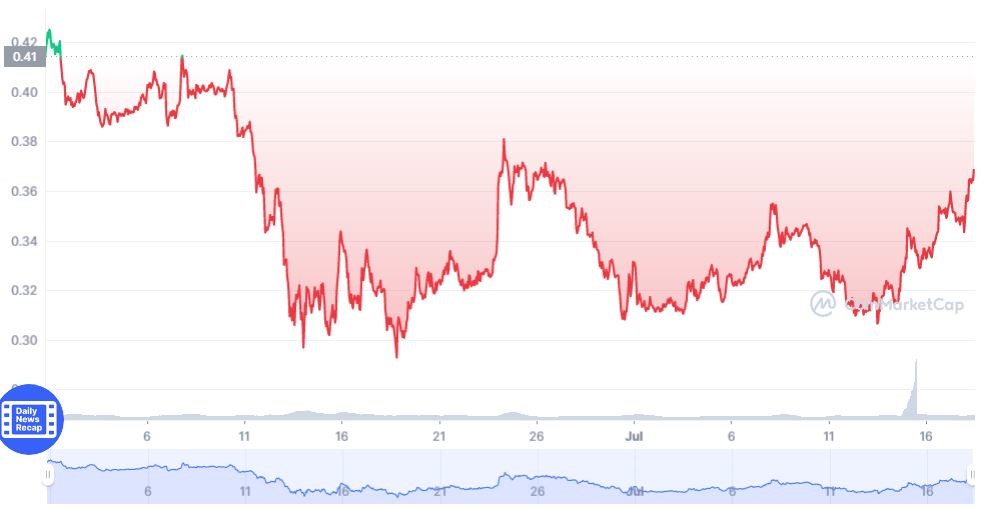 As for the technical analysis, while XRP is above 4-hours 55 simple moving average, it has also recently broke above a major bearish trend line with resistance near $0.3430 on the 4-hours chart. XRP's RSI is also above 50, which is a positive signal as well.
Further, although the coin is getting support at $0.34, $0.32 and, $0.31, on the upside it also faces resistance at $0.37 and $0.39.
In the coming days, if the Bitcoin sustains at the current price level and then breaks above $23k, it will potentially cause XRP to go further upwards towards $0.45.
Moreover, Ripple's lawsuit with SEC is another factor that has a strong impact on XRP's price. With current Ripple in lead the case may reach the conclusion by the end of the year.