The newest baby in the crypto block is Baby Doge Coin. Despite being around three weeks old, the token's popularity has grown just like its father, the dogecoin. The dogecoin community is excited about this recent development, hoping that BABYDOGE will soar to new heights just like DOGE.
At the time of writing, BABYDOGE is trading at $0.00000000218 on the few exchanges that have listed the token. The value is a 23.3% increase in 24 hours.
BABYDOGE Price Analysis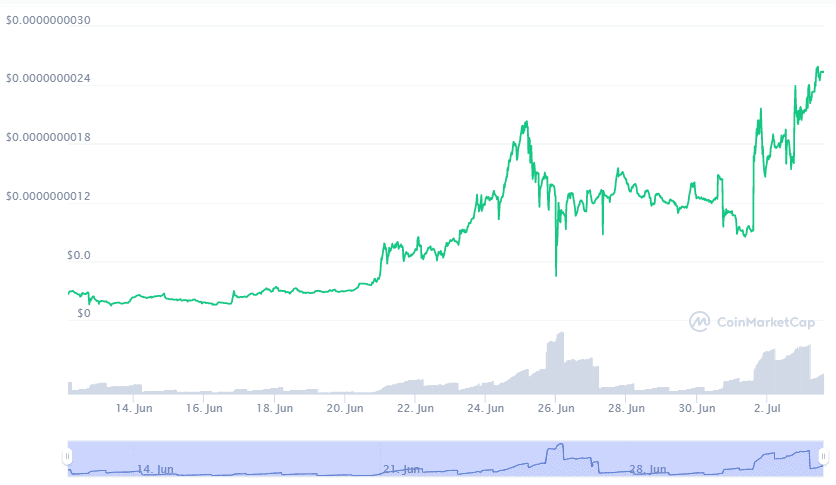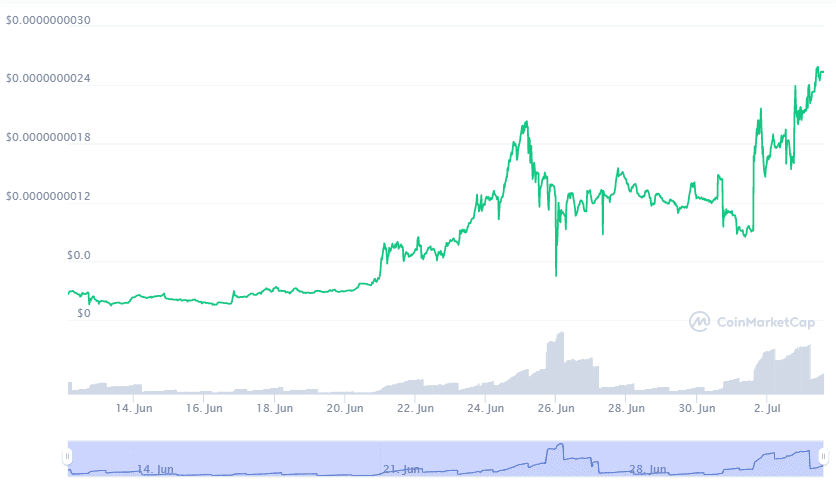 After launching just three weeks ago, it might be challenging to know just where BABYDOGE is headed. However, over the few weeks it has been in existence, Baby Doge Coin has achieved an over 600% price growth. This price growth can be attributed to the strong dogecoin community eager to hyper its tokens on social platforms.
BABYDOGE is on a bullish upswing, giving it a rare edge in the market. Even though there is not many historical data to go on, we can see that the token is on the verge of overcoming strong resistance levels and going to higher levels. Even without the broader crypto market support, the coin seems to be doing fairly good on its own.
On the flipside, BABYDOGE is a very new cryptocurrency, and hence a retreat will be awful for holders. Buyers are purchasing with the hopes that prices will spike, but if prices drop, we might witness massive selloffs, and the coin might just be pushed out of the market.
Elon Musk is a lover of dog tokens, and he has not delayed showing his support for BABYDOGE. After tweeting about Baby Doge Coin, Musk sent the prices of the token soaring to high levels. Musk tweeted about the token using a famous children song, saying, "Baby Doge doo doo doo doo doo."
Baby Doge, doo, doo, doo, doo, doo,
Baby Doge, doo, doo, doo, doo, doo,
Baby Doge, doo, doo, doo, doo, doo,
Baby Doge

— Elon Musk (@elonmusk) July 1, 2021
If Musk's support for this token continues, we might witness a rally similar to dogecoin. In fact, before Musk's tweet, very few people knew about BABYDOGE.
However, new investors to Baby Doge Coin need to be cautious because this token does not have any underlying technology. Its model is more of a pyramid scheme where the 10% transaction fees are shared amongst holders, with the most prominent investors getting the biggest share. It is more of a gamble where creators are hoping to benefit from the hype surrounding dogecoin. Hence, while you might make money quickly, only invest with what you are willing to lose.
Where to Buy BABYDOGE
If you want to buy BABYDOGE and make some quick profits, create an account on a cryptocurrency exchange such as:
eToro is one of the leading crypto exchanges where you can buy a wide range of cryptocurrencies. eToro is a reputable exchange that offers competitive trading fees, and having a copy trading feature helps new investors learn from expert traders.
One of the places you can buy BABYDOGE is PancakeSwap. PancakeSwap is a decentralized exchange for Binance; hence you will also need a Binance account to get started. After buying BNB tokens, you can then swap them for BABYDOGE.
Looking to buy or trade Baby Doge Coin (BABYDOGE) now? Invest at eToro!
75% of retail investor accounts lose money when trading CFDs with this provide.