As Bitcoin, Cardano, XRP, and Dogecoin rose, the overall market value of cryptocurrencies surpassed $2 trillion for the second time. On Saturday, the market value of cryptocurrency surged to $2.06 trillion, tracking over 8,800 coins.
Bitcoin continues to move above its 200-day moving average, climbing to $48,152, its highest level since May 16. Cardano, which is now the third-ranked cryptocurrency behind Bitcoin and Ether, was up 47 percent in the last seven days, helping to keep the general market surge going.
Over the same time span, Binance Coin increased by 14%, XRP by 61%, and Dogecoin by 18%.

Bitcoin soared sharply higher on Aug. 13 after the US Treasury Department indicated it would not crack down on software developers, miners, stakers, and hardware merchants, despite the $1 trillion infrastructure bill clearing the US Senate with the caustic bitcoin tax clause. However, double-digit increases for XRP, Cardano, and Dogecoin were a symptom of increasing market froth.
Bitcoin Has Remained Above Its 200-Day Moving Average
Bitcoin is still trading above its 200-day moving average, which is quite important. Also, Cardano (ADA), which is up significantly after announcing smart contracts are coming soon to the platform earlier this week.
BTC is currently standing at $47,504.09 with the change of 3.27%. In the last 24 the trading volume of coin is $32,446,406,406 along with the market cap of $892,709,171,950.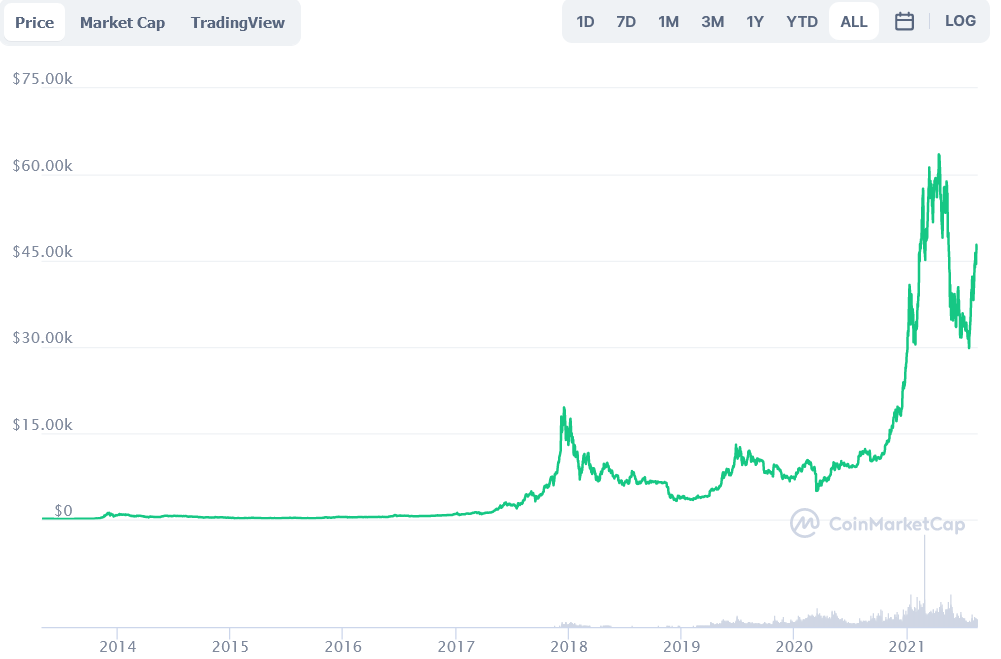 The ADA and XRP communities are expecting higher rises. Barry Silbert, the founder of the Digital Currency Group and Grayscale, tweeted earlier today that $100,000 is now a magnet for Bitcoin, exactly as he said two years ago about the $20,000 threshold.
The gains occurred despite the cryptocurrency industry's failure to get a change to crypto tax reporting laws included in a US infrastructure bill that cleared the Senate on Tuesday, leaving wording for broad oversight of virtual currencies intact.