Stellar has been making a downward trend since its upswing towards the end of June. However, the downtrend has not deterred XLM from making other significant gains attributed to market support and buying support. Stellar has also managed strong support despite the current pullback in the market, with bitcoin and ethereum struggling to maintain higher levels.
XLM is trading at $0.245 at the time of writing after a 2.7% dip in 24 hours.
XLM Price Analysis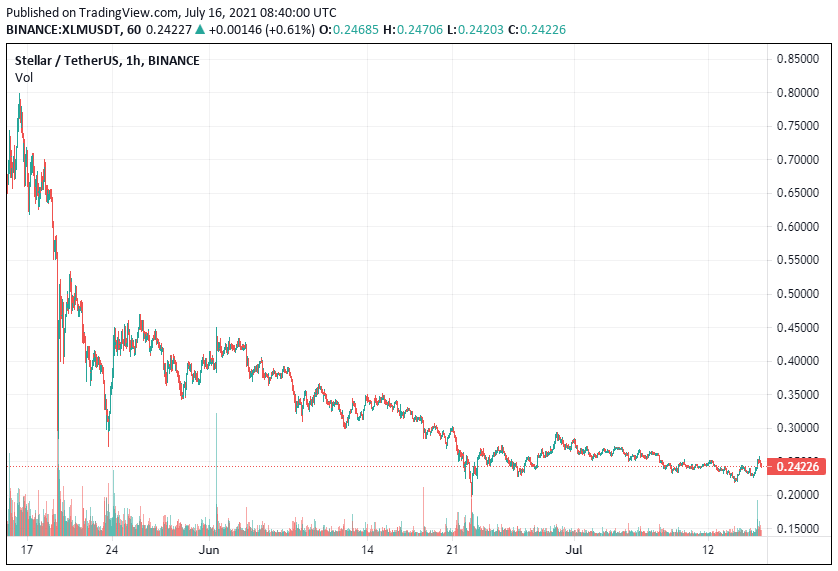 Stellar is currently on an upswing that has been maintained in the past 24 hours. Looking at the price movements of XLM in the past week, volatility has remained low; hence it is a safe investment for investors who want to avoid massive price movements.
If XLM continues with the uptrend, it might retest the $0.30 level again, which could push investors to buy more, hoping that the price gain will continue. However, sharper bulls towards $0.50 and beyond will heavily be dependent on whether market and buying support will be consistent.
Slight fluctuations in XLM prices might also be witnessed, mainly if day traders sell between intraday periods to leverage the slight gains. A slight downtrend in XLM prices could lead to a retreat to $0.22 or below. If a flip towards $0.20 happens, it might gear up XLM for bull support for traders leveraging the dip.
Stellar Lumen has a strong use case that could boost the token's ability to climb up the ladder and accumulate exceptional gains. One factor that makes this network unique is its constant supply that cannot be altered; hence, investors who HODL for the long term might witness gains.
The Stellar network, just like Ripple, is also heavily invested in creating a gateway for the development of central bank digital currencies (CBDCs). With the International Monetary Fund (IMF) and the World Bank advocating for the development of CBDCs, Stellar's use case is expected to increase.
Where to Buy XLM
Crypto traders who want to buy XLM can do so from a secure and reliable cryptocurrency exchange like eToro. eToro is a reputable exchange because it offers a wide range of user-friendly features that make it easy for traders to navigate when creating, funding and placing orders. Besides, eToro also offers support to a wide range of cryptocurrencies and crypto trading pairs.
Looking to buy or trade Stellar (XLM) now? Invest at eToro!
75% of retail investor accounts lose money when trading CFDs with this provide.