Solana replaces Ripple as the world's sixth largest cryptocurrency by market cap.
Solana Replaces Ripple's XRP
For Solana, the last 24 hours have been rather eventful as in the meantime it did not only hit an all time high of $214, but also surpassed XRP's market cap to replace it for world's sixth largest cryptocurrency.
Despite that all the other top 10 coins have gone through a dip during the last 7-day period, Solana is still up by 28%. As for many, the year 2021 has been a major price boost for Solana. Since Jan, the coin has skyrocketed to the moon by over 10, 000%.
Solana's Prince Behaviour during the Year 2021

As at the dawn of the year Solana barely traded over $2. Solana saw the first major price hike during May, when 9n May 19 it Crossed $54. But right after hitting the stated price mark it crashed down hard, as it dipped below $22. Then from the period between Late May to Mid Aug Solana traded between $20 to $40. Come Aug 15 Solana shot up abruptly and crossed $100 by Aug 30. No major correction then, before Solana hit an all time high of $214 and consequently replaced XRP.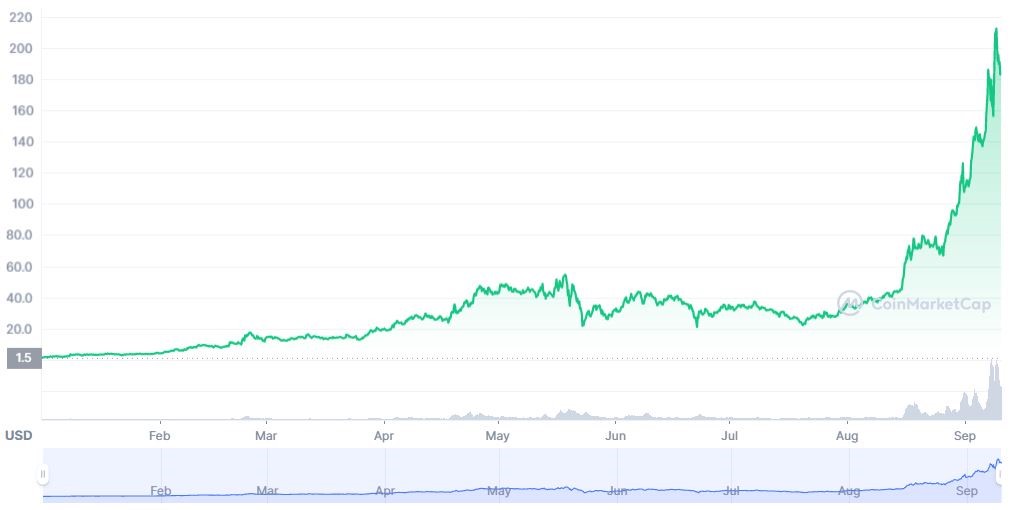 Currently trading at $183 Solana is down by over 12% during the last 24 hours. Moreover, having decreased by 13%, Solana's market is down to $53 billion from yesterday's $60 billion. Relative to XRP, Solana is still up by approximately $3 billion, as XRP's current market cap is $50 billion.
What is Solana? A Little peek
One of the most unique and fastest Solana is backed by a strong ecosystem. It neither uses proof-of-stake nor proof-of-work, but Proof-of-history. Proof-of-history is the consensus mechanism which when combined with Solana's impressive block time makes Solana the fastest contract blockchain in crypto space, with-claimed-tps of 65,000.