Have you heard of a hamster that has been 'Killing it' in trading cryptocurrencies? And has been doing better than Bitcoin, the S&P 500 and Warren Buffett's Berkshire Hathaway (BRKB)?
Well, meet Mr. Goxx, a German hamster who is making money, with his lifetime career performance up 20% (about 63 Euros). This performance is  better than that of many seasoned traders and funds.
Mr. Goxx works from an 'office' that is probably one of the most sophisticated hamster cages ever. His trading mechanism is explained in a video posted on his YouTube account. According to the video, Mr. Goxx's cage (the "Goxx box") is complete with a hamster wheel (known as the "intention wheel") and two separate tunnels, "buy" and "sell" respectively. When MR. Goxx runs on the intention wheel, he selects from over 30 cryptocurrencies, including Bitcoin, Ethereum and other top coins. After exiting the wheel, whatever tunnel Goxx runs through subsequently initiates a "buy" or "sell" position on that particular crypto. His decision is then sent over to an actual crypto exchange where the decision is executed.
Mr. Goxx's trading sessions are livestreamed on his Twitch account that is run by his anonymous human business partner. You can follow Mr. Goxx's "office hours" and crypto updates on his Twitch and Reddit page.
Note that the hamster's trading decisions should not be taken as financials advice nor a scientific process. The human behind Goxx's account makes it clear that the investments are for entertainment purposes only.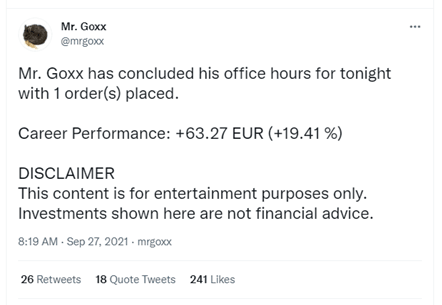 However, it is clear that since the Hamster started trading in June, his portfolio has increased by approximately 20%. This is a suggestion that Mr. Goxx's performance is better than that of Bitcoin, Warren Buffett's Berkshire Hathaway, the Nasdaq 100, and the S&P 500.
Bitcoin price has climbed about 14% since from around $36,585 at the beginning of June to the current price around $45,196 at the time of writing. S&P 500 has risen by about 5% and the Nasdaq 100 has declined 1.25% over the same period. Meanwhile Berkshire Hathaway B shares, have fallen by 2%.

Although Mr.Goxx has been trading smaller amounts of capital as his crypto portfolio has been reported to increase from Euro equivalents of $380 to approximately $500, it is very impressive.
While the Hamster's methodology is random, it is reminder that people are changing their sources of financial advice.
From getting tips from TikTok and the Baltimore kids, investors are increasingly using crypto robots to make trading decisions.
Looking to buy or trade Crypto? Invest at eToro!
67% of retail investor accounts lose money when trading CFDs with this provider
Read More: