The cryptocurrency market remains in a state of indecision. While it has ended the slide from a total value of $2.6 trillion to $1.3 trillion, it has failed to rebound beyond $1.5 trillion. At the same time, while some of the biggest coins have risen strongly in the past week, others have flatlined or gone backwards. However, this stagnation arguably presents a good opportunity to make some big gains. As such, we've picked the 5 top cryptocurrencies to buy this week. These include coins that may bring a short-term spike, as well as those with more long-term potential.
5 Top Cryptocurrencies To Buy This Week
Bitcoin (BTC)
As far as the cryptocurrency market goes, bitcoin (BTC) is always a safe bet. It's arguably even safer now that its price is relatively low. At $34,800, it's up by 7% over the past fortnight, but down by 3% over the past week. It's also down by 3% in the past 30 days, as well as 46% off its all-time high of $64,804.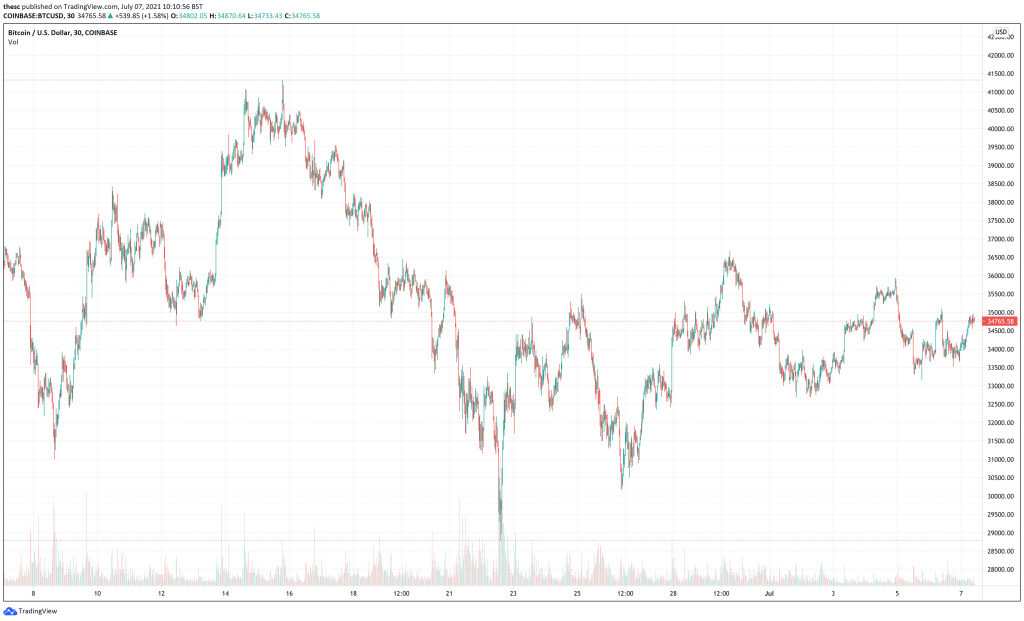 As the chart above shows, bitcoin's support level has gradually risen since the end of June. It has risen steadily from the $30,000 level to $32,000, $33,000 and now almost $34,000. In other words, it's becoming a safer buy, although its resistance level is failing to rise in parallel.
This increase in bitcoin's support level has been caused by bigger players gobbling up BTC at a discount. As the tweet below indicates, the quantity of BTC on OTC desks is falling.
#Bitcoin balance on OTC desks continues to decline as bigger players continue to accumulate at these lower levels.https://t.co/7q63SMp574 pic.twitter.com/yHimkIJY4d

— Yann & Jan (@Negentropic_) July 5, 2021
Similarly, the supply of BTC on exchanges is also slipping downwards. While the effect is unlikely to be immediate, this accumulation suggests that the market is preparing for an eventual surge. This is why it's one of the top cryptocurrencies to buy this week, and why it will probably be one of the best to buy for the foreseeable future.
#Bitcoin balances on exchanges flattening out again after a large wave of inflows in May.https://t.co/8mQEOqTf06 pic.twitter.com/ziTBBbEI6m

— Yann & Jan (@Negentropic_) June 30, 2021
Ethereum (ETH)
Ethereum (ETH) is one of the best-performing major coins right now. It has risen by nearly 4% in 24 hours and nearly 10% in a week, to $2,375. It has also risen by 26% in the past two weeks, going some way to correct the declines it has witnessed since May 12. This was when it hit its current ATH of $4,356.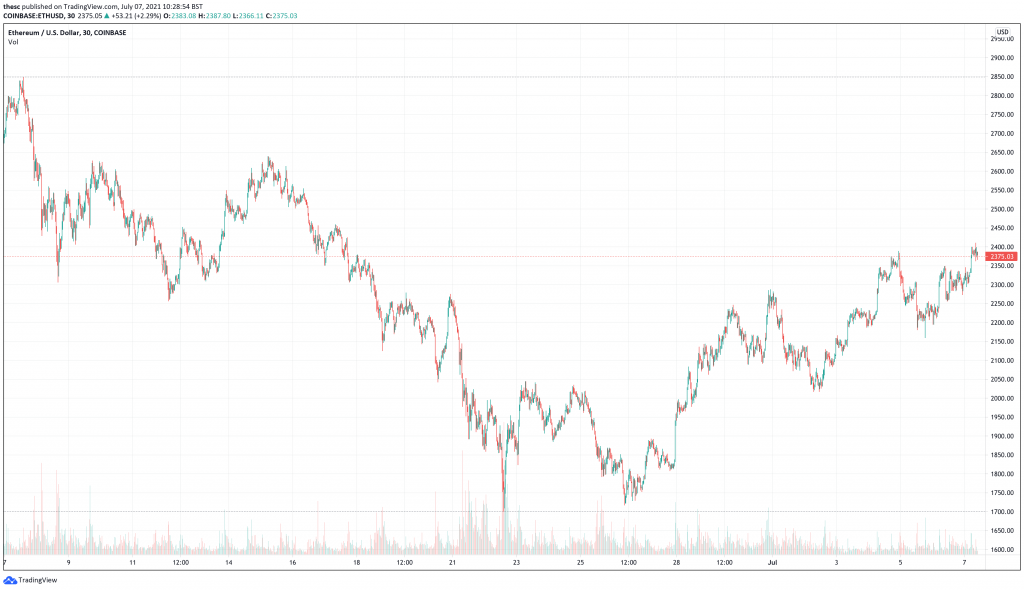 However, despite falling as low as $1,700 on June 26, ETH has since bounced back. Its support and resistance levels have both increased in parallel, and it seems to be gaining new momentum.
ETH / BTC bounced this week ending the quarter > 0.06 pic.twitter.com/EoGDywkJL6

— skew (@skewdotcom) July 1, 2021
It's likely that the approach of Ethereum 2.0 is the biggest factor in ETH's recovery. Data from Dune Analytics shows that 6.2 million ETH has now been staked in Ethereum 2.0's smart contract. This will only increase as the final launch of Ethereum 2.0 — due at some point in late 2021 or early 2022 — nears. It's also likely to increase for as long as the wider market remains relatively stagnant, with staking currently guaranteeing an APR of 6.3%.
Certain analysts have even suggested that as much as 30% of circulating ethereum could be staked after Ethereum 2.0 goes live. This could have a massive effect on ETH's price, particularly when only 5.3% of the current supply is locked up right now.
Uniswap (UNI)
Uniswap (UNI) is a cryptocurrency whose time has come. It's currently priced at $23, representing a 6% rise in the past 24 hours and a 23% rise in the past week. Impressively, it has also risen by 40% in the past fortnight. That said, it is down by 11% in the past 30 days and down by 49% compared to its ATH of $44.92. Of course, such declines are in line with the rest of the market.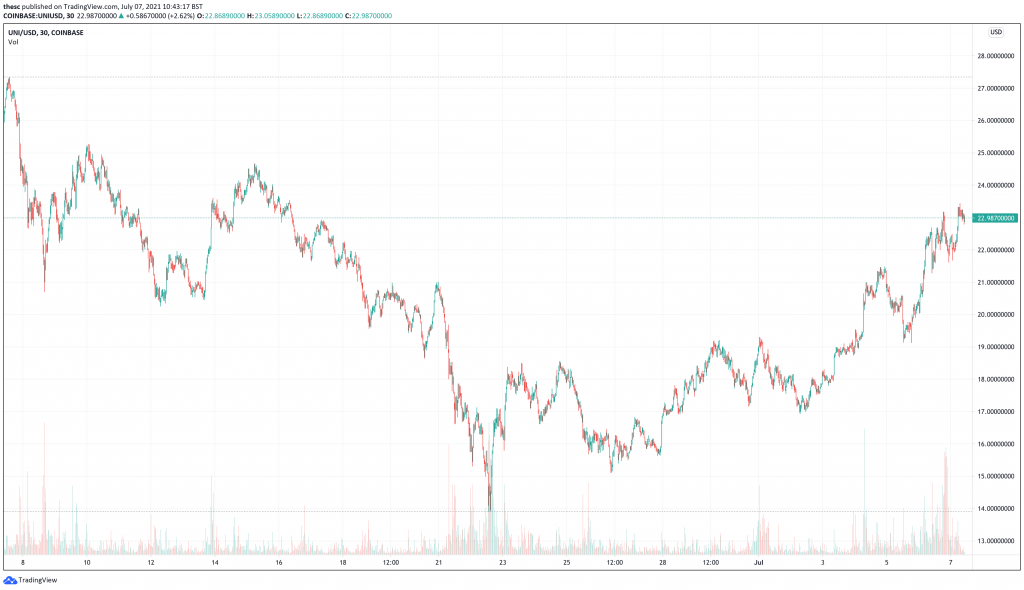 A big part of UNI's recent rise is hype surrounding the launch of Uniswap V3. This is the third version of the decentralised exchange (DEX). It brings a range of improvements, including better order execution and greater capital efficiency for liquidity providers.
1/

🦄 We are thrilled to announce that Uniswap v3 is now live on Ethereum mainnet!https://t.co/liqYXtQoM2 has been updated to support v3.https://t.co/VeR2ueZfEk

— Uniswap Labs 🦄 (@Uniswap) May 5, 2021
More recently, Uniswap has introduced liquidity mining. This means that users can earn extra tokens in return for staking tokens. This has likely increased demand for UNI, with the token's price rising by around 27% since the feature was announced.
1/

🌊 We're very excited to share that the Uniswap v3 liquidity mining contracts have been deployed to Ethereum mainnet and all testnets.

🧑‍💻 Developers can start using these contracts today! https://t.co/ygMkq3OiTU

— Uniswap Labs 🦄 (@Uniswap) July 1, 2021
As for the long-term, Uniswap arguably has a very bright future as a DEX. Recently, Binance — a centralised exchange — has received plenty of negative attention from regulators and banks. However, as a decentralized exchange, Uniswap is less likely to suffer such resistance. Its recent rise may therefore be the product of the market pricing in its future avoidance of regulatory pullback. If so, it certainly deserves a place as one of the top cryptocurrencies to buy.
Ethereum Classic (ETC)
Ethereum classic (ETC) is another cryptocurrency to watch. At $55, it has risen by 50% in the past two weeks. That said, it is down by 14% in the past month, and by 67% compared to its ATH of $167.09 (set on May 6).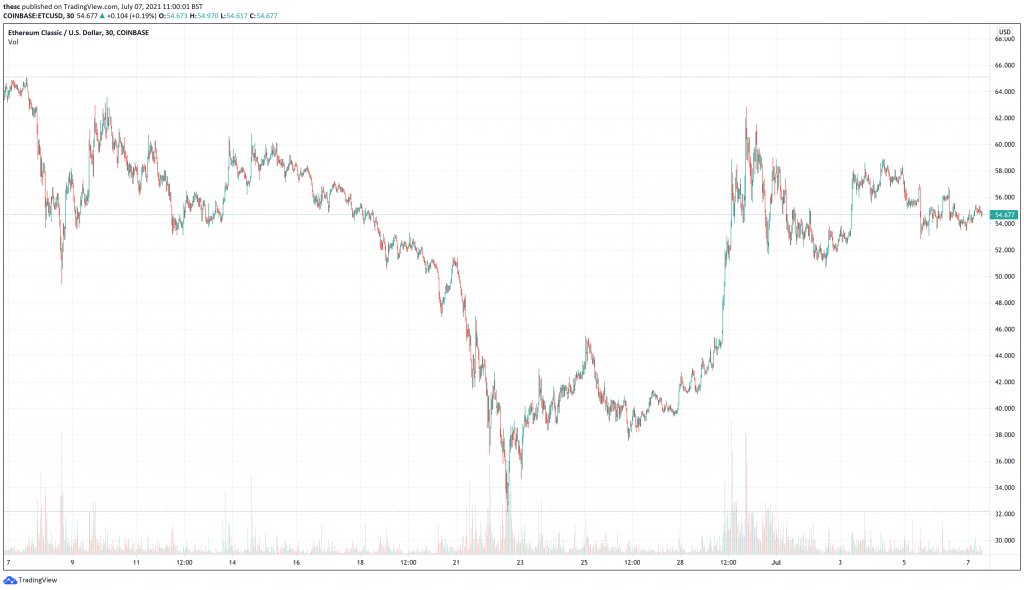 This is a big dip, but it suggests that ETC could rebound vigorously. This is made all the likelier by the fact that the cryptocurrency will benefit from the launch of Ethereum 2.0. With Ethereum's move to a proof-of-stake system, miners will have to shift to a new blockchain. Ethereum Classic is the prime candidate, since it shares a similar algorithm to Ethereum.
With miners flocking to Ethereum Classic, its strength as a network will only grow. In parallel, the depth and liquidity of the ETC market will increase. This is likely to push up the price of ethereum classic in the long run.
Compound (COMP)
Compound (COMP) is one of the cryptocurrencies of the moment. It has risen by just over 100% in the past 14 days, to $477. It's also up by 23% in the past month and by 144% in the past year, having been launched only a year ago.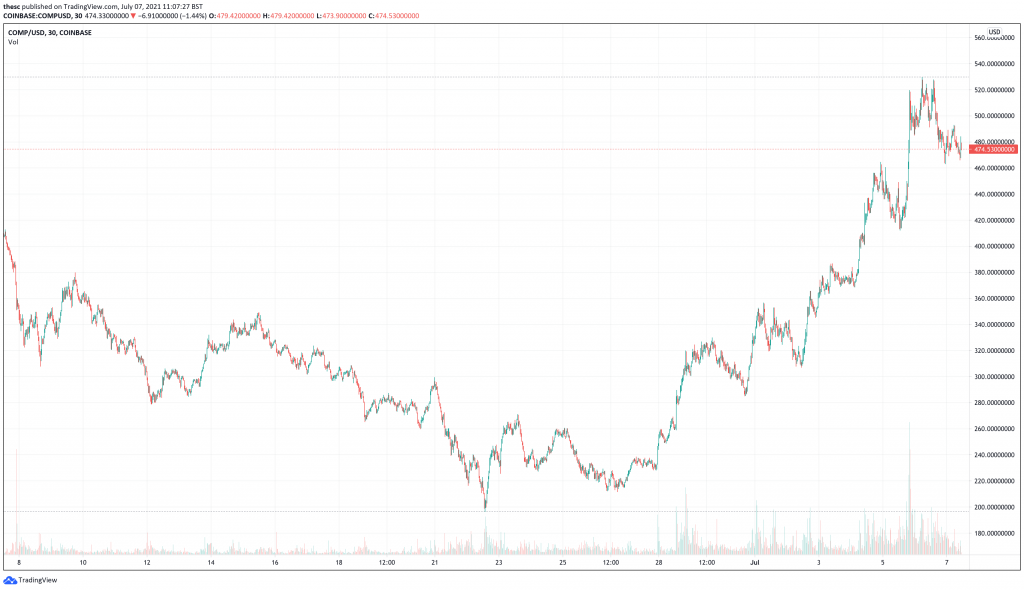 Most recently, it has launched its Compound Treasury service. This lets digital banks and fintechs access the Compound DeFi system, enabling them to earn interest of 4% on US dollar deposits. The service is currently available only in California, but will be rolled out to other states soon. It's likely to increase demand for COMP considerably in the near future.
Compound Treasury is currently available to customers in California.

Learn more at https://t.co/4iaoNvTlFj, or contact us at [email protected] 📈

— Compound Labs (@compoundfinance) June 28, 2021
Capital at risk