The cryptocurrency market has continued its steady slide downwards over the past 24 hours. From just over $1.5 trillion over a week ago, its total value now stands at $1.3 trillion. This marks a fall of around 13%, with many of the biggest cryptocurrencies dropping by similar percentages. However, while this is bad news for anyone hoping for a decisive recovery, it sets the stage for a stronger rebound over the weekend. Accordingly, we've picked the 5 best cryptocurrencies to buy for the weekend rally. This covers coins that tend to perform strongly over the weekend. It also includes cryptocurrencies that are due a big jump more generally.
5 Best Cryptocurrencies To Buy For The Weekend Rally
Bitcoin (BTC)
If you look at bitcoin's charts over the past month, a pattern emerges of it pushing upwards over the weekend. At $31,500, it has fallen by over 3% in the past 24 hours and by 4% in the past week. It has also dropped by 22% in the past 30 days.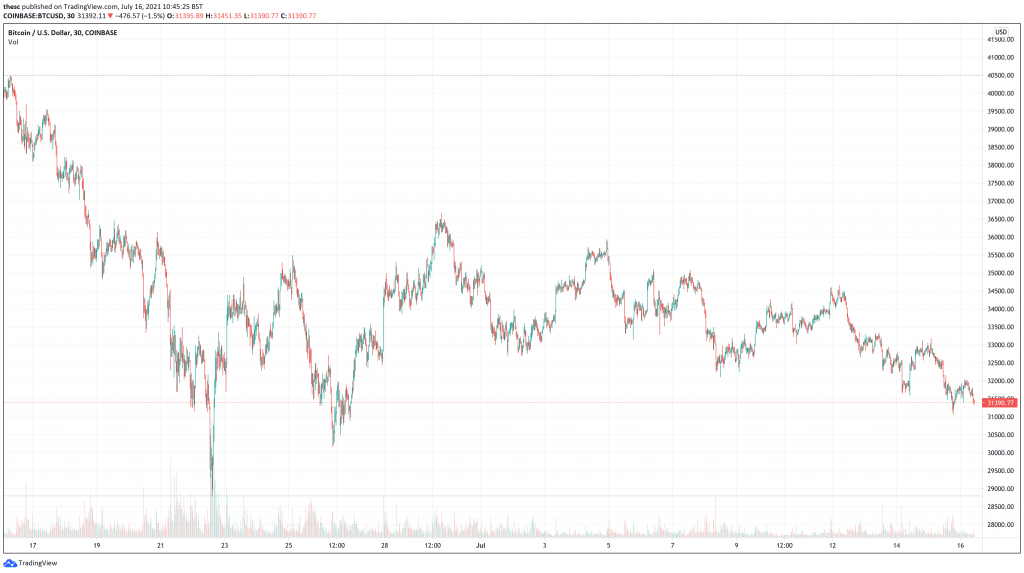 Such falls may be disconcerting. However, if you look at the above price chart, you'll see that mini-recoveries tend to happen on weekends. From Friday July 9 to the end of Sunday July 11, BTC rose by around 6%. From Friday July 2 to midnight on Sunday July 4, it increased by just over 7%. And the same goes for Saturday June 26 to the end of June 27, when it recovered by over 10%.
Of course, this pattern doesn't always hold. Nonetheless, there is a tendency for BTC to recover some of its losses over the weekend.
More generally, bitcoin remains very cheap compared to the price suggested by various models. The stock-to-flow model suggests it 'should' pass $100,000 by the end of the year. Something similar is suggested by its 11-year price history, as pointed out in a June report from Pantera Capital.
My on-chain data (color overlay in the chart below) tells me this bull is not over and 64K was not the top. That is in line with s2f(x) model. Also my floor indicator (not based on s2f) says we will not go below 47k Aug close. pic.twitter.com/K6Hfjdp26x

— PlanB (@100trillionUSD) July 2, 2021
Regardless of the accuracy of such models, bitcoin continues to lead the market. Not only in terms if it being the first to make significant moves. But also in terms of its ability to attract wider adoption and interest.
Ethereum (ETH)
Ethereum (ETH) has had a tough time. It's down by 5% in 24 hours and 11% in seven days, at $1,900. This is 26% below its price from 30 days, and 56% below its all-time high of $4,356.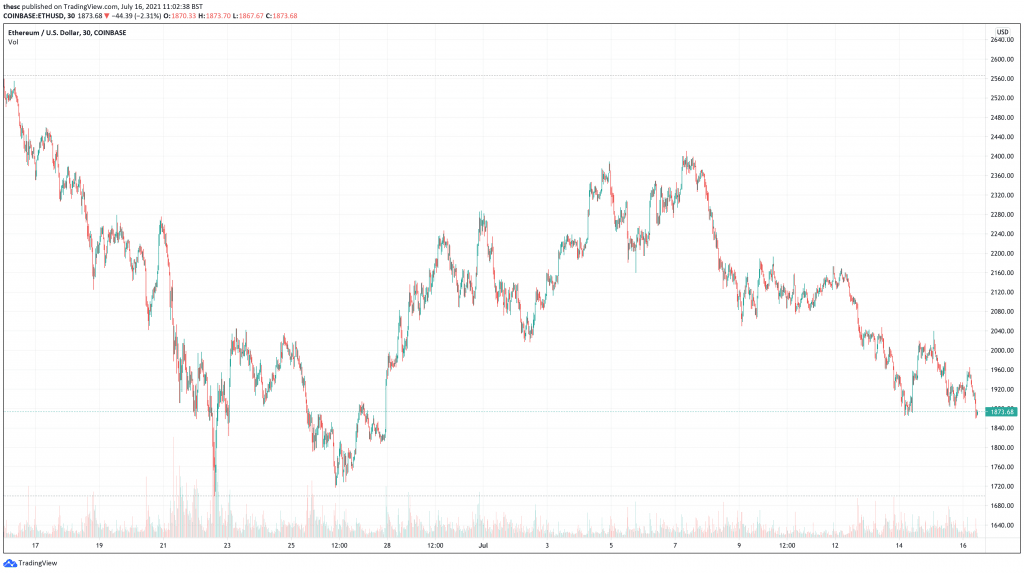 Ethereum hasn't rallied as consistently as bitcoin over weekends. However, if you look at its chart, its biggest rebounds have recently been happening between Friday (or Saturday) and the end of Sunday. For example, between Friday July 2 and Sunday July 4 it rose from about $2,000 to $2,400. This a jump of 20%.
Given that ETH has fallen harder than other big coins (particularly BTC), it's arguable that it will rebound more strongly. And with 6.3 million ETH now sitting in the Ethereum 2.0 smart contract, there's going to be an increasing squeeze on its circulating supply.
Hedera Hashgraph (HBAR)
It may be a relative unknown, but hedera hashgraph (HBAR) is one of the few top-100 cryptocurrencies to buck the downtrend. At $0.181728, it's up by 6% in the past 24 hours and by 5% in the past week. And despite falling by 14% in the past 30 days (pretty much in line with the rest of the market), it's still up by nearly 350% for the year.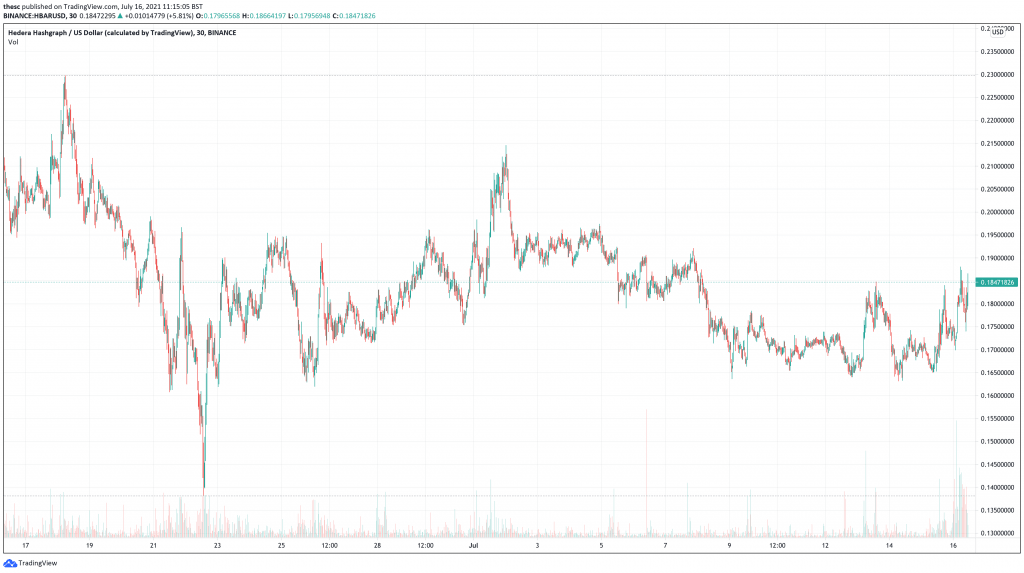 Hedera Hashgraph is a public network capable of hosting decentralised applications. It achieves a high degree of throughput largely by restricting who can serve as a node, something which inevitably increases its centralisation. Nonetheless, its high speed makes it attractive to organisations, with the organisation announcing on July 15 that it has been working with the UK's NHS on storing Pfizer-BioNTech Covid-19 vaccines.
"In the UK, Hedera #Hashgraph and @EverywareUK have been working with the @NHSuk on its storage and distribution of these vaccinations." Read more by Ian McKenzie and Mark Taylor from @OsborneClarkeUK on @Mondaq: https://t.co/AlhHD6wlpo pic.twitter.com/lWLUNjjO2I

— Hedera Hashgraph (@hedera) July 15, 2021
It's likely that this piece of news alone is responsible for its surge over the past 24 hours. Given that the cryptocurrency market is currently starved for good news right now, it could also be enough to make HBAR one of the 5 best cryptocurrencies to buy for the weekend rally.
Uniswap (UNI)
Uniswap (UNI) is another coin that has fallen hard in recent days, but that should recover strongly. It's down by 9% in the past 24 hours, at $16.30. It's also down by 20% in the past seven days and 30% in the past 30.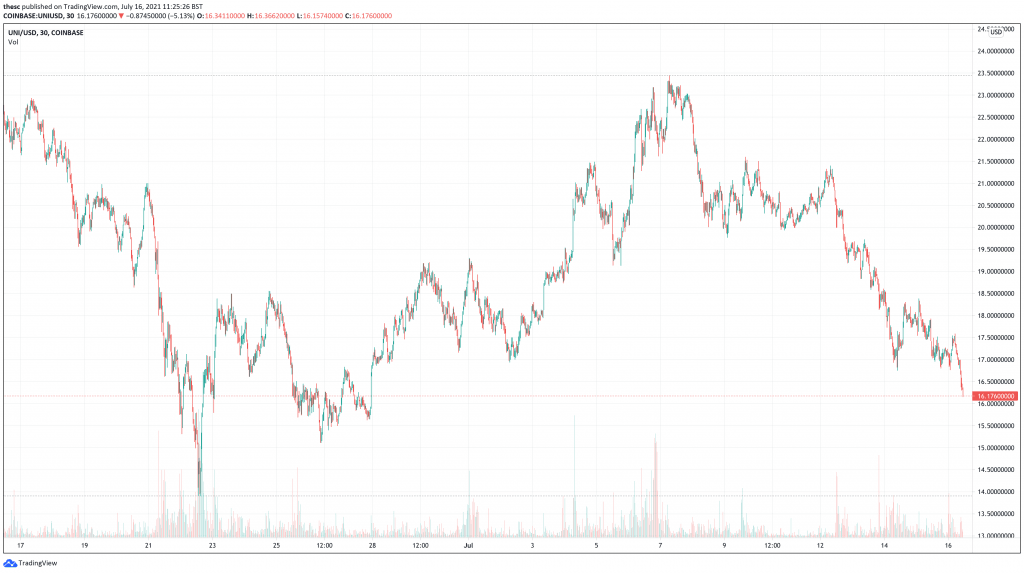 Uniswap is one of the biggest losers of the past few weeks (among major coins). Still, it has rallied strongly in recent weekends. Between July 2 and 4, it rose by around 23%. Between July 10 and 11, it rose by 5%. And between June 26 and 27, it increased by as much as 9%.
This pattern, along with its recent big fall, sets UNI up nicely for a recovery this weekend. Looking at the longer term, the cryptocurrency is likely to benefit from Uniswap's status as a decentralised exchange. With the likes of Binance facing severe regulatory pushback, Uniswap's position is likely to strengthen in the not-too distant future.
Uniswap has also recently released version 3 of its exchange, introducing a number of technical enhancements. This includes the rollout of liquidity mining, which lets earn UNI for staking cryptocurrency.
1/

🌊 We're very excited to share that the Uniswap v3 liquidity mining contracts have been deployed to Ethereum mainnet and all testnets.

🧑‍💻 Developers can start using these contracts today! https://t.co/ygMkq3OiTU

— Uniswap Labs 🦄 (@Uniswap) July 1, 2021
Compound (COMP)
Compound (COMP) is the best-performing cryptocurrency in the top 50 over the past 30 days. It may have fallen by 6% in the past 24 hours and 8% in the past week. However, it's up by 14% in the past fortnight and 25% in the past 30 days.
It has also risen strongly over recent weekends. On the weekend of July 2 to 4, it jumped by around 45%, from $310 to nearly $450. It also rose by just over 10% between July 9 and 11, and by 11% between June 26 and 27.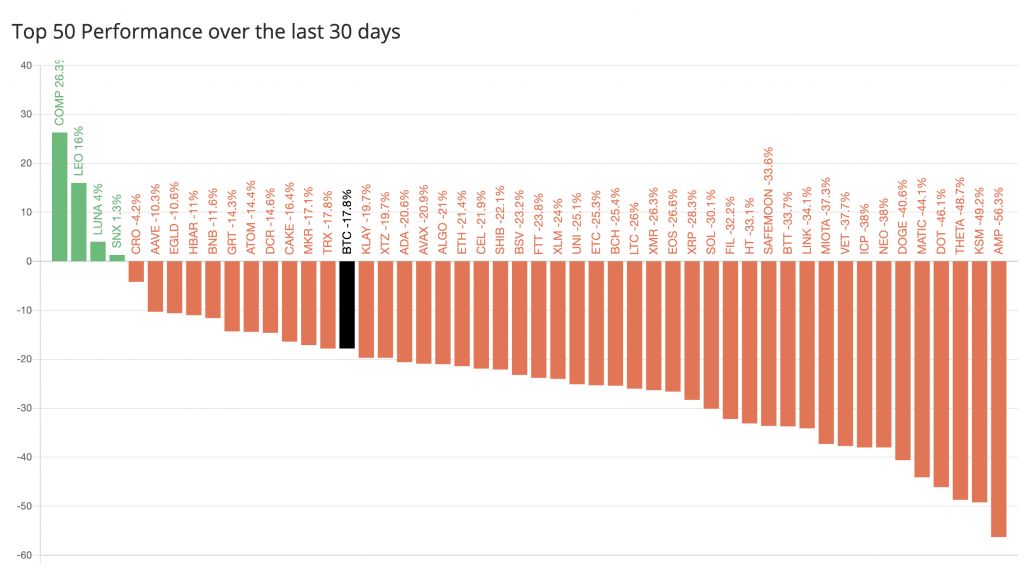 This suggests it's likelier than most other coins to exhibit some positive volatility this weekend.
The launch of Compound Treasury is the main reason for COMP's strong performance over the past few weeks. This is a new service which lets any company deposit US dollars into the Compound DeFi system, letting them earning 4% interest per year.
We're proud to announce Compound Treasury, designed for businesses and financial institutions to access the benefits of the Compound protocol.

The idea is simple: a fixed 4% APR on US dollars, with daily liquidity and none of the complexity of crypto.https://t.co/l8ih8IzrHh

— Compound Labs (@compoundfinance) June 28, 2021
Aside from Compound Treasury, the platform also remains the fourth biggest DeFi network by total value locked in. In fact, its TVL has increased by nearly 24% since June 22, from $5.74 billion to $7.11 billion.
This performance is impressive given the current state of the market. And it's one of the reasons why COMP is one of the 5 best cryptocurrencies to buy for the weekend rally.
Capital at risk