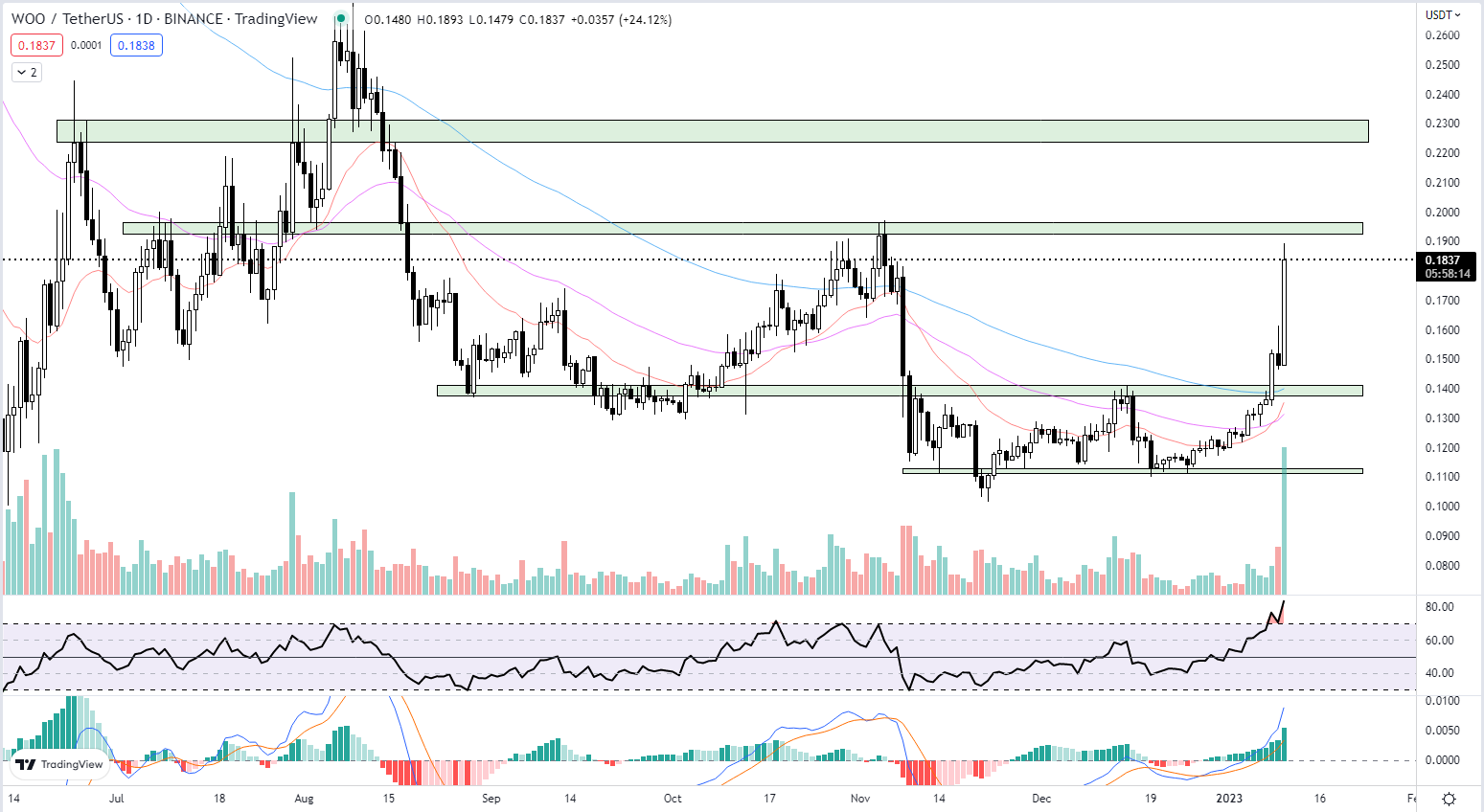 Ever since bouncing from the support of $0.1133 back on December 26, WOO's price has been on a fast track upward trajectory. Over the course of the past two weeks, the cryptocurrency's value has shot up by an impressive 55.07%.
With the Woo Network token showing sustained bullish momentum as of writing–up by 24.13% for the day, traders are wondering if WOO can sustain its growth and if so, just how high can WOO's price go?
Woo Network (WOO) Price Prediction and Technical Analysis
Exponential Moving Average (EMA)
WOO has been trading above its 20-day, 50-day, and 100-day exponential moving averages (EMAs), which suggests the short to long-term outlook for the cryptocurrency is bullish.
Furthermore, analysis of the EMAs reveals that it's currently forming a bullish alignment, with the 20-day EMA crossing over the 50-day EMA and rapidly nearing the 100-day EMA. This indicates a possible upward trend for WOO in the coming days if macroeconomic factors allow.
Relative Strength Index (RSI): WOO Price Prediction
The RSI for WOO has been in oversold territory ever since the crypto broke out of the resistance range of $0.1373 to $0.1411, when it hit RSI 76.46. The buying pressure for WOO has continued to be strong and the RSI has reached 83.07 as of writing.
It's worth noting that the RSI can be partially disregarded as long as the cryptocurrency is moving along with volume confirmation. However, traders are advised to monitor this indicator to watch for potential divergences, which could be an early indicator of a potential retracement.
Moving Average Convergence Divergence (MACD)
WOO's MACD has been moving parabolic well above the zero line with the histogram showing a steady, gradual increase in separation between the MACD and the signal line.
Analysis of the MACD indicator shows that it has been performing extremely well above the zero line, with a parabolic upward trajectory. Furthermore, the histogram of the MACD has also displayed a steady and gradual increase in separation between the two lines.
This increase in separation is considered to be a strong bullish signal, as it indicates that the MACD line is trending further away from the signal line and moving at a faster pace.
WOO Price Action and Key Levels of Support and Resistance
Ever since breaking out from the resistance range of $0.1373 to $0.1411 in conjunction with the 100-day EMA, WOO's price has continued its bullish momentum, currently trading at $0.1837–up 24.14% as of writing.
With the breakout being confirmed by its trading volume, the cryptocurrency is fast approaching its immediate resistance range of $0.1921 to $0.1965. If the price fails to move higher and is rejected, immediate support may be found at $0.1723 to $0.1735.
Woo Network (WOO) Fundamental Analysis
Woo Network Tokenomics
The Woo Network team announced a series of improvements to its token distribution on Monday, aimed at addressing issues with its current tokenomics. The revamp to its tokenomics begins with the planned burning of 705 million WOO tokens, currently valued at $127 million.
A new era for the $WOO token

As a first step in a series of improvements, WOO Network has burned 705M $WOO tokens – over 24% of the total supply.

Here's a breakdown of how we are propelling $WOO into a position of strength in the market (1/4)

👉https://t.co/TNHJ6fia49 pic.twitter.com/H7CcditgfO

— WOO Network (@WOOnetwork) January 10, 2023
This process, known as token burning, involves "destroying" coins by sending them to a burn address, permanently removing them from circulation. The planned burn represents 24% of the WOO token supply.
Following the token burn, the Woo Network team stated that it will launch initiatives to improve the utility of its native token. The token burn announcement has had a significant impact on price action, with WOO gaining more than 20% in today's trading. The price spike also follows a positive trend for the Woo token, which has seen an increase of over 45% in the last seven days alone.
Alternative Cryptocurrencies to Invest In
As the crypto market prepares for a possible rebound in 2023, investors should search for investment opportunities beyond top market cap coins like WOO. Newer altcoins with strong fundamentals such as FGHT, D2T, CCHG, TARO and RIA may provide greater potential when it comes to growth. With careful research and strategic investing these could be extremely profitable investments in the coming year.
Fight Out (FGHT) Set to Pack a Punch
Fight Out is looking to transform the fitness world with its advanced move-to-earn (M2E) platform and gym chain. Gyms will feature smart technology, allowing users to gain rewards for their hard work while participating in challenges against fellow members to accumulate REPS tokens. With these tokens, they obtain discounts on membership packages, subscriptions and merchandise like apparel, dietary supplements, or training equipment. Additionally, Fight Out fosters a supportive community where people can openly cheer each other on as they reach their physical objectives.
Fight Out is dedicated to helping users reach their health and fitness goals with a unique reward system and an NFT-based avatar that helps members track physical achievements that level up their digital counterpart. The combination of tangible rewards plus social motivation from other users offers a powerful framework designed specifically to motivate people towards becoming healthier versions of themselves.
Come Q4 2023, the first Fight Out gym will open with the latest Web3-connected technology. Advanced "mirrors" will display users' digital fitness profiles and sensors will track progress for and offer insights while helping members earn rewards for their effort. A special ambassador program is also being developed to feature top boxers and athletes who will hold masterclasses as well as other exclusive events.
The future of #MoveToEarn is here! 💪

With personalised workouts, a supportive community, and the chance to earn rewards as you progress, Fight Out gyms will take your fitness journey to the next level.

Join the presale now while you still can! ⏰⬇️https://t.co/z34Nkx3ffi pic.twitter.com/Z4MihZs5FA

— Fight Out (@FightOut_) January 10, 2023
It's no wonder the Fight Out Token is in high demand; its potential within the growing health and fitness industry is immense, and when combined with the game-changing app and tech features that come with support from some of today's top athletes, it only amplifies its potential. In a matter of weeks since launch, over $2.8 million has already been raised–and the close of stage 1 of the presale is approaching fast.
Visit Fight Out Now
Dash 2 Trade (D2T)
Dash 2 Trade is ready to take the sophistication level of the crypto trading space up a notch as its February 15 launch quickly approaches. With a comprehensive suite of tools that give traders unprecedented visibility and control over their investments, as well as an uplifting community providing resources for vetting projects before investing–Dash 2 Trade makes available all relevant data needed to make informed decisions regarding investment portfolios.
Dash 2 Trade's platform will be a great setting to learn and improve trading skills for novice and experienced traders alike, providing an opportunity to refine their strategies while utilizing automated trading through exchange APIs. Additionally, its token presale scoring system will offer users a chance to invest in potentially lucrative tokens before they become highly sought-after on the market.
Dash 2 Trade is positioned to become the go-to trading platform, with its cutting edge analytics and real-time sentiment tracking. With a connection to Learn 2 Trade, which already serves 70K international traders, Dash2Trade has a solid user base from which to build an even stronger community around their product.
https://t.co/a1d9vDe5GZ #Startup Initial Free Offering: #D2T @dash2_trade

🗓️ Subscription: 07:00 AM, Jan 10-Jan 11 (UTC)
💰Airdrop Value: $120,000

Claim NOW: https://t.co/mJiKLMj7L3#gateiostartup #Gateio #Airdrop #launchpad pic.twitter.com/0JfVwH5NGb

— Gate.io Startup (@Gateio_Startup) January 9, 2023
D2T's presale has raised significant funds for the launch and continued development of the project, with all tokens being sold out prior to exchange listing and the project raising over $15 million.
The development team achieved remarkable success, surpassing their expectations when they released the beta version of their trading dashboard on January 4. Four crypto exchanges so far will be listing the D2T token: Gate.io, LBank, Changelly Pro, and BitMart.
Visit Dash2Trade Now
C+Charge (CCHG)
Blockchain technology is indeed being used to tackle real-world problems, as demonstrated by C+Charge, an upcoming peer-to-peer payment system designed specifically for electric vehicle (EV) owners. The project's token presale has caught the interest of some large investors, with the presale, almost doubling its raise overnight with a $100k purchase from a whale. The presale has now raised over $240k.
The C+Charge platform will make finding and paying for charging stations fast and easy, eliminating many of the difficulties associated with conventional payment methods.

EV owners are all too familiar with the challenges of finding charging stations, high fees, lack of transparency, and insecurity when making payments, but C+Charge is here to change that. With C+Charge, EV owners can pay for charging stations directly from their digital wallets, with no additional fees or delays. The app will also provide a searchable database to help users find available stations with ease and offer real-time information on the status of charging stations.
C+Charge's presale is currently offering its CCHG tokens at a price of $0.013 USDT. The price of tokens will increase over the course of three additional stages, reaching $0.02350 in stage 4.
Visit C+Charge Now
RobotEra (TARO)
An innovative metaverse-building game, RobotEra, is currently in development and set to launch this year. The game aims to offer a unique and immersive experience to players as they take on the task of rebuilding the post-apocalyptic planet of Taro.
RobotEra will offer a user-friendly interface to players, allowing them to construct and customize their own robots and the landscape and buildings, even without prior programming knowledge. Players can also monetize their gameplay by selling advertisement space on their buildings or hosting events with admission fees. Additionally, holders of RIA, the game's cryptocurrency, can earn additional fees from staking.
The game is set to introduce virtual and augmented reality elements as well this year, taking players on a journey to a high-tech metaverse that seamlessly blends elements of Minecraft with the futuristic robot world setting of Taro.
The developers have reported a strong interest in the game, with the presale already raising nearly $700K as momentum continues to build.
Visit RobotEra Now
Calvaria (RIA)
A new world of gaming will soon be available for players with the release of Calvaria: Duels of Eternity, a crypto and NFT-based card battle strategy game that immerses players in an afterlife-themed realm. Players will be able to create their own decks, using unique character cards, to battle in a 3D-imaged world on their mobile devices.
Calvaria, differentiates itself from other collectible card games with its dynamic 3D card imagery and design, which offers an engaging and immersive experience. In the game, players can engage in solo player story mode, as well as player versus player battles, with the reward of eRIA tokens for the victorious players. eRIA can be used in the P2P marketplace to acquire new cards and characters or to upgrade existing ones.
Next step in our partnership with KuCoin team is the @KuWallet integration! $RIA will be available there at launch, and KuWallet is supported right now on our ICO page: https://t.co/JekxLNMJgh where kuwallet users can purchase $RIA directly from the wallet!#calvariagang https://t.co/OqzmDd1yUE

— Calvaria: Last Stage Presale is Live! ✨ (@CalvariaP2E) December 29, 2022
The developers will also be creating a free-to-play version that comes with a starter deck, to make the game more accessible. This will entice players into the P2E version by showing them how much they would have earned had they not been in the free version.
The game has already attracted the attention of investors, who have contributed $2.83 million to the presale of the game's token already as it moves towards the targeted $3 million.
Visit Calvaria Now
Related:
IMPT – New Green Crypto Project
Doxxed Professional Team
Listed on Uniswap, LBank, Changelly
Presale Raised $20.5 Million
Use Cases in Industry – Carbon Offsetting