Cardano has followed the overall positive feeling as the bullish surge on the cryptocurrency market enters its third week, and investors are keen to see whether there is potential for additional optimism for the cryptocurrency that is now ranked eighth biggest by market capitalization. 
Cardano's price has risen by 3% since last week and at the time of writing this article, ADA stands at $0.36 in line with the general trend of the cryptocurrency market. As the market anticipates a new Cardano upgrade that will boost the capability of its smart contract programming language, ADA has surged just over 45% since last month.
Cardano's blockchain joins the ranks of the most advanced layer-one networks in the cryptocurrency industry. Since Cardano has not yet secured a sizable portion of the overall value of this ecosystem, there is a high possibility of Cardano hitting the $10 price point.
What Makes Cardano Unique?
Charles Hoskinson, an American entrepreneur and one of the co-founders of Ethereum, launched the Cardano blockchain project in 2015. Cardano performed an Initial Coin Offering (ICO) and raised around $62 million to finance development.
In September 2017, Cardano's mainnet launched with basic features. Several updates were made to Cardano during the following years, improving the platform's decentralization and introducing essential features like Proof-of-Stake consensus and smart contracts.
Cardano (ADA) is the native token of the Cardano blockchain. For validators to be incentivized to maintain network security, and so that transaction fees may be paid, ADA is essential. 
Cardano's development process is noted for being systematic and ambitious, drawing significantly on ideas from the field of peer review. Ouroboros, a Proof-of-Stake consensus process, is used by the Cardano blockchain, and it is a technology that can be verified as being safe. 
Cardano stands out from other blockchains that support smart contracts because it employs a novel transaction mechanism called EUTXO (Extended Unspent Transaction Output). Plutus, Cardano's smart contracts language, is based on Haskell, a computer script that is best for authentication and authorization.
Will Cardano Hit the $10 Price Point?
The chart for Cardano on CoinMarketCap shows that it has been gaining steam over the previous few weeks. A relative strength index above 68 indicates persistent purchasing pressure that may not abate for some time. Similarly, its 30-day moving average has clearly begun climbing up towards its longer-term 200-day average, indicating a forthcoming reversal that itself signals a strong breakout.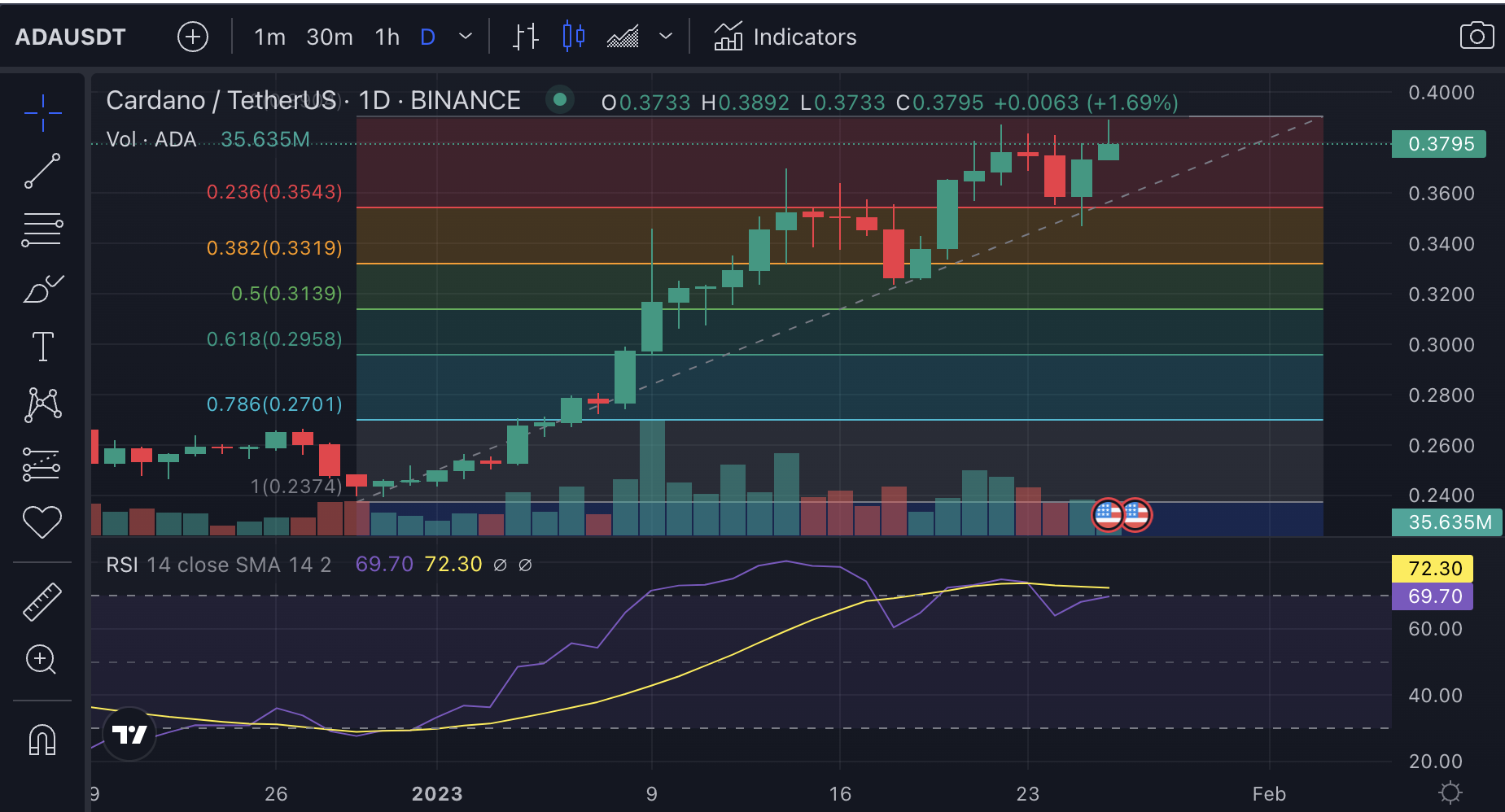 Fundamentals also lead to continued price gains this year, but technicals alone show that ADA like much of the market was long ready for a significant comeback. It's worth noting that since Cardano's network allowed smart contracts in September of last year, over 5,400 Plutus scripts have been deployed. 
Cardano's locked-in value may be tiny at $77 million, but its almost 60% increase since January 1 shows how rapidly the network is expanding. Indeed, daily activity data from GitHub demonstrates that Cardano is either the most active network or one of the most active networks.
It's important to note that despite ADA's low TVL it is still the eighth-largest coin with respect to its market cap. As a result, ADA will increase in worth as Cardano continues to mature and gain traction among adopters.
At only $13.2 billion, its market valuation is barely 6.75 percent of Ethereum's at $195.3 billion. Assuming ADA achieves 20% of ETH's cap, its price would increase to roughly $1.15, which is a fairly attainable aim in the next few months.
One estimate puts the long-term price of ADA at about $5.30, however, this might increase significantly if the cryptocurrency industry enters a new bull market. If the market takes off and Cardano gains widespread acceptance, we may even be able to surpass this goal.
What will it take For Cardano to reach $100?
Given that Cardano is also a smart contract platform, it's natural to draw parallels between the two. The highest point in ETH's market cap history was over $550 billion.
There are over 34 billion ADA tokens in circulation as of this writing, Cardano's native currency. At a price of $100, Cardano's market valuation would be $3.4 trillion, making it around six times higher than Ethereum's all-time high.
Since Cardano is not as widely used as Ethereum, it will be challenging for it to even reach Ethereum's market valuation, let alone surpass it by a factor of 6. In contrast to Ethereum's 950,000 daily transactions, Cardano users are completing roughly 62,000 transactions per day as of this writing considering that Ethereum's fees are way higher than Cardano's.
If ADA were to hit $100, its market cap would surpass the all-time high global cryptocurrency market worth of almost $2.9 trillion in November 2021. Cardano's $3.4 trillion market value at $100 per ADA in January 2023 would likewise be bigger than the market capitalization of any firm in the world. 
It is clear from these two examples that ADA will have a very hard time breaking the $100 mark. Extremely unlikely for an asset with a market valuation of $12.7 billion, ADA would need to climb in price by 270x from its present price to reach $100.
A price of $100 for ADA is unrealistic unless the supply of ADA is drastically curtailed. The ADA supply is unlikely to decline much in the future, however, because no ADA burning mechanism is in place.
Final Word
Although we believe a Cardano price of $10 is farfetched, it does not imply it cannot rise in value. Cardano has significant untapped potential from a basic perspective since the project still has a long road ahead of it before reaching any major landmarks. Cardano's planned evolution spans five distinct time periods or eras which will help boost the price in the coming years.
The question is how far can Cardano go? There are still crypto investors that wonder if Cardano is dead, but if another large cryptocurrency Bull Run in the future occurs, it is quite conceivable for Cardano to reach and even surpass its current all-time high of $3.10. If the Cardano team keeps pushing forward with its lofty vision, the odds of this happening will rise.
Although cryptocurrency markets have a cyclical nature, there is no assurance that any cryptocurrency will ever again reach its all-time highs. Numerous cryptocurrency initiatives, for instance, reached their zenith during the 2017 Bull Run but have subsequently fallen from their previous heights.
Related Articles
Best Altcoins to Buy 
Best Crypto to Buy Now
Fight Out (FGHT) – Newest Move to Earn Project
CertiK audited & CoinSniper KYC Verified
Early Stage Presale Live Now
Earn Free Crypto & Meet Fitness Goals
LBank Labs Project
Partnered with Transak, Block Media
Staking Rewards & Bonuses