Baby doge coin made headlines after an over 1000% growth barely a month after it was launched. The largest extent of the growth happened when Elon Musk tweeted about BABYDOGE, which is also when more people learnt about the token. However, BABYDOGE looks like it is shedding some of those gains.
At the time of writing, BABYDOGE is trading at $0.00000000257 on major exchanges after a 15.2% dip in 24 hours.
Baby Doge Coin Price Analysis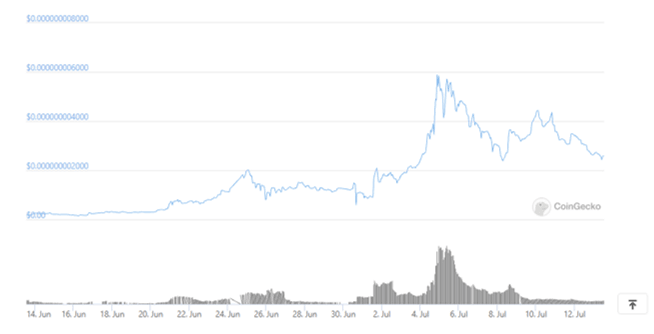 Baby doge is now among the most popular tokens in the crypto market right now, given that it is giving crypto users great returns ever since the 1000% gain in value in just a few weeks. However, the coin's growth levels were concerning to analysts, who predicted that the gains could soon reverse if a price correction happened.
BABYDOGE needs to resume trading at over $0.000000003 because this is where bulls will have officially resumed. BABYDOGE bulls will be great because they will magnify the hype surrounding the token. Moreover, it will also add to the returns realized by holders.
However, an uptrend in BABYDOGE will depend on the market and buying support for the token.
On the downside, BABYDOGE might fail to gain an uptrend and instead retreat to lower levels. In this case, the coin might be in for significant losses because it would mean that investors have to dump out of fear that the prices might decline sharply if a price correction is on the way.
BABYDOGE recently had a debut on NASCAR, and investors believed that the coin's prices would spike, given that it was one of the coin's significant endorsements. However, it seems that endorsement did not help baby doge coin much because of the recent retreat.
The BABYDOGE community also recently raised funds for an animal shelter in Atlanta. The community donated more than $100K towards the course, which further boosted the coin's popularity.
Where to Buy Baby Doge
Those who want to buy baby doge can do so from the following crypto exchanges:
eToro comes in as one of the most recommended cryptocurrency exchanges. It offers a wide range of features such as copy trading and a demo trading account. eToro also charges competitive trading fees, making trading on the platform easier.
The other crypto exchange where one can buy Babydoge is PancakeSwap. The exchange also comes in highly recommended for new tokens in the market. PancakeSwap is supported by the Binance Smart Chain, giving users access to competitive trading fees.
Looking to buy or trade Crypto now? Invest at eToro!
75% of retail investor accounts lose money when trading CFDs with this provider